FlicketBall is a fun game created & designed by comedian Jonas Holt where a small cardball is flicked towards a target. Stocks are still available.
-Anybody with fingers can play FlicketBall
-Manufactured & Printed in Australia
-Made from resilient glossy card
-Perforated lines - no scissors required!
-Easy-to-follow instructions
-Includes built-in spare FlicketBalls
We only have the Aussie Rules version available at this time.
To find out about FlicketBall, contact us on the details below: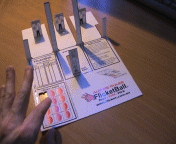 CONTACT:
(02) 9907 6625 (9am -7pm)
info@ superherocentral.com.au