FOOTYMAN is one of the most popular characters at Superhero Central. He is a one-man entertainment-based sports entertainer specialising in humour & exercise.
"There's nothing funnier than a kid laughing at jokes who's puffed out from running around!"
FOOTYMAN yells out.
He's available for kids' parties and general outdoor functions and Christmas parties.

A typical FOOTYMAN kids' party starts with FOOTYMAN arriving at your outdoor party or function with all bagged equipment ready to set up.
After finding all the kids, he starts the hour-length FOOTYHERO training!
From there, games will generally include practice kicking and passing, a tug-o-war, running races, acrobatics, a choice of soccer or Aussie Rules ball to play a game.

FOOTYMAN is also available to entertain at your local footy or sports club.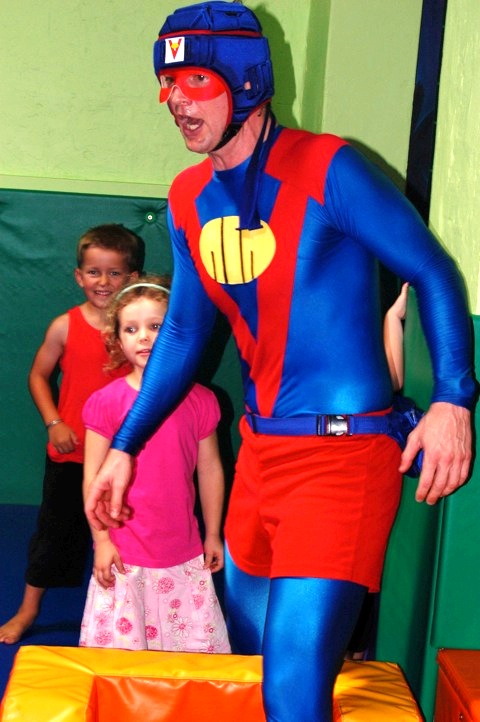 GROWN-UPS' SHOWS:
Footyman can also perform stage shows as a standup comedian. With his full 30 minute repertoire Footyman makes light of all the colourful characters and events in modern football. His guitar parodies about Fevola, Barry, Israel, Aker have been played regularly on 2GB's The Bounce program.
These shows are best for football & sporting clubs; presentations and sports entertainment events.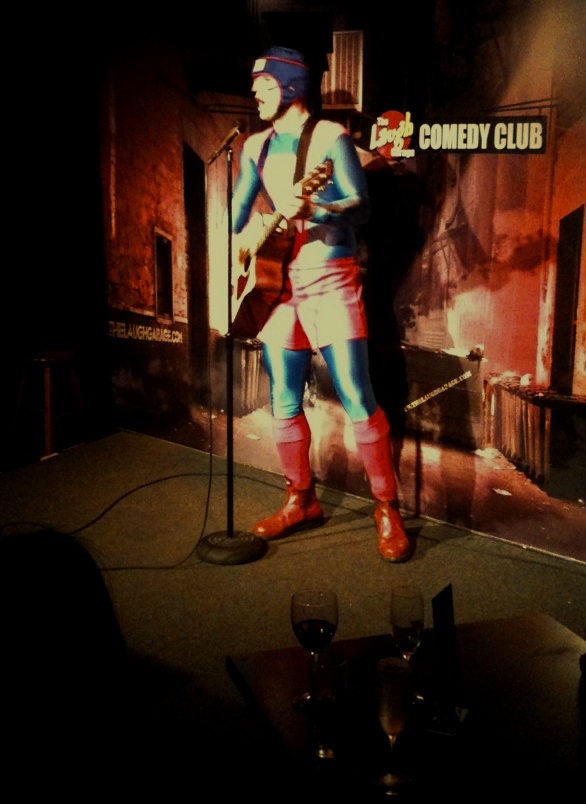 FOOTYMAN's PROFILE:
HEIGHT: 180cm (5'11'') – "six foot with long studs on!"
WEIGHT: 83Kgs - "before lunch"
FAVOURITE TEAM: All of them, "Even the Magpies"
FAVOURITE COLOUR: Red. No Blue!
FAVOURITE MUSIC: Footy club songs
FAVOURITE TV SHOWS: Footy games!
FAVOURITE TRICKS: Handstands, wallruns and backflips
Mission Statement:
'to encourage kids of New South Wales to play Australian Rules football in a spirit of excitement, hilarity and fun, as a multi-skilled mascot of the code"