Secret Army Agent
This is our secret army agent. We can't tell you his name, because it's a secret.
His clothes change from camouflage to smart suits, working well with themes like Zac Power, Action Man, Men In Black, and other similar military characters.
He'll encourage lots of action with the kids, but strongly discourages 'hitting friends, because we're all friends here'.
He will generally play several energetic games with a half-time drinks break, and sing Happy Birthday with everybody for the cake-cutting. Birthday boy (or girl) also receives a themed present.
This Secret Army Agent is available for children's parties on weekends and weekdays in backyards, parks, halls, kindergartens, theatres… practically anywhere in Sydney!
Prices vary depending on location & venue, number of children, and length of performance.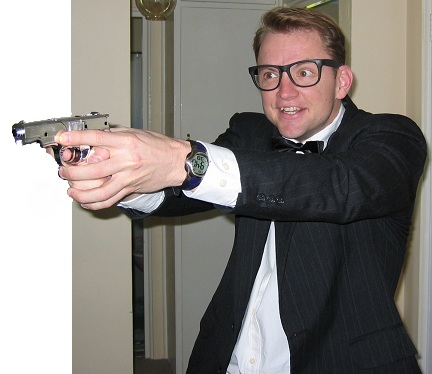 The Army Agent is mostly suitable for ages 5 - 8
Call or email us for a quote and availability.

(02) 9907 6625 (9am -7pm)
info@ superherocentral.com.au